My Blog
Posts for: December, 2017
By Montgomery Dental Care
December 22, 2017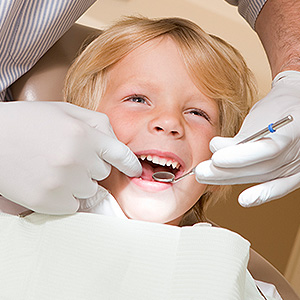 To get your child on the right track for lifelong dental health we recommend you begin their dental visits around their first birthday. You can certainly visit your family dentist, especially if you and your family feel comfortable with them. But you also might want to consider a pediatric dentist for your child's dental needs.
What's the difference between a family dentist and a pediatric dentist? Both offer the same kind of prevention and treatment services like cleanings, fluoride applications or fillings. But like their counterparts in medicine — the family practice physician and pediatrician — the family dentist sees patients of all ages; the pediatric dentist specializes in care for children and teens only.
In this regard, pediatric dentists undergo additional training to address dental issues specifically involving children. Furthermore, their practices are geared toward children, from toys and child-sized chairs in the waiting room to "kid-friendly" exam rooms decorated to appeal to children.
While your family dentist could certainly do the same, pediatric dentists are also skilled in reducing the anxiety level that's natural for children visiting the dental office. This can be especially helpful if you have a special needs child with behavioral or developmental disorders like autism or ADHD. A pediatric dentist's soothing manner and the calm, happy environment of the office can go a long way in minimizing any related anxiety issues.
Your child may have other needs related to their oral health that could benefit from a pediatric dentist. Some children have a very aggressive form of dental caries disease (tooth decay) called early childhood caries (ECC).  If not treated promptly, many of their teeth can become severely decayed and prematurely lost, leading to possible bite problems later in life. Pediatric dentists are well-suited to treat ECC and to recognize other developmental issues.
Again, there's certainly nothing wrong with taking your child to your family dentist, especially if a long-term relationship is important to you (your child will eventually "age out" with a pediatric dentist and no longer see them). It's best to weigh this and other factors such as your child's emotional, physical and dental needs before making a decision.
If you would like more information on pediatric dentistry, please contact us or schedule an appointment for a consultation.
By Montgomery Dental Care
December 07, 2017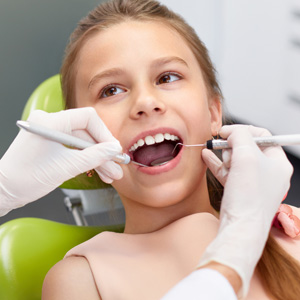 Soon after the primary (baby) teeth begin to give way, the teeth a child will have the rest of their lives start erupting into the mouth. But while they're permanent, they're not as strong and developed as they will be in adulthood.
That's why we treat young permanent teeth differently from older adult teeth. For example, a decayed adult tooth may need a root canal treatment; but this standard treatment would often be the wrong choice for a child's tooth.
The reason why involves the pulp, the innermost layer of a tooth, which plays a critical role in early development. Young permanent teeth continue to grow in sync with the jaws and facial structure. Most of this growth is in the dentin, the layer between the enamel and pulp, which increases proportionally to the other layers as the tooth matures. The pulp generates this new dentin.
A root canal treatment completely removes the diseased tissue of the pulp. This isn't a major issue for a mature tooth because it no longer needs to generate more dentin. But it can have long-term consequences for an immature tooth whose growth may become stunted and the roots not fully formed. The tooth may thus become brittle and darkened, and might eventually require removal.
Because of these potential consequences, a root canal treatment is a last resort for a young permanent tooth. But there are modified alternatives, depending on the degree of pulp exposure or infection. For example, if the pulp is intact, we may be able to remove as much soft decayed dentin as we can, place an antibacterial agent and then fill the tooth to seal it without disturbing the pulp. If the pulp is partially affected, we can remove that part and place substances that encourage dentin growth and repair.
Our main goal is to treat a young tooth with as little contact with the pulp as possible, so as not to diminish its capacity to generate new dentin. Avoiding a full root canal treatment if at all possible by using these and other techniques will help ensure the tooth continues to develop to full maturity.
If you would like more information on dental care for children, please contact us or schedule an appointment for a consultation. You can also learn more about this topic by reading the Dear Doctor magazine article "Saving New Permanent Teeth after Injury."