My Blog
Posts for: July, 2019
By Montgomery Dental Care
July 18, 2019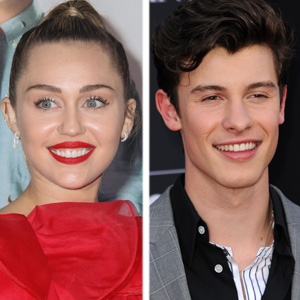 The 2019 Grammy Awards was a star-studded night packed with memorable performances. One standout came from the young Canadian singer Shawn Mendes, who sang a powerful duet of his hit song "In My Blood" with pop diva Miley Cyrus. But that duo's stellar smiles weren't always quite as camera-ready as they looked that night.
"I had braces for four and a half years," Mendes told an interviewer not long ago. "There's lots and lots and lots of photo evidence, I'm sure you can pull up a few." (In fact, finding one is as easy as searching "Sean Mendes braces.")
Wearing braces puts Mendes in good company: It's estimated that over 4 million people in the U.S. alone wear braces in a typical year—and about a quarter of them are adults! (And by the way: When she was a teenager, Miley Cyrus had braces, too!)
Today, there are a number of alternatives to traditional metal braces, such as tooth-colored braces, clear plastic aligners, and invisible lingual braces (the kind Cyrus wore). However, regular metal braces remain the most common choice for orthodontic treatment. They are often the most economical option, and can be used to treat a wide variety of bite problems (which dentists call malocclusions).
Having straighter teeth can boost your self-confidence—along with helping you bite, breathe, chew, and even speak more effectively. Plus, teeth that are in good alignment and have adequate space in between are easier to clean; this can help you keep your mouth free of gum disease and tooth decay for years to come.
Many people think getting braces is something that happens in adolescence—but as long as your mouth is otherwise healthy, there's no upper age limit for orthodontic treatment. In fact, many celebrities—like Lauren Hutton, Tom Cruise and Faith Hill—got braces as adults. But if traditional braces aren't a good fit with your self-image, it's possible that one of the less noticeable options, such as lingual braces or clear aligners, could work for you.
What's the first step to getting straighter teeth? Come in to the office for an evaluation! We will give you a complete oral examination to find out if there are any problems (like gum disease or tooth decay) that could interfere with orthodontic treatment. Then we will determine exactly how your teeth should be re-positioned to achieve a better smile, and recommend one or more options to get you there.
If you have questions about orthodontic treatment, please contact our office or schedule a consultation. You can read more in the Dear Doctor magazine articles "The Magic of Orthodontics" and "Lingual Braces: A Truly Invisible Way to Straighten Teeth."
By Montgomery Dental Care
July 08, 2019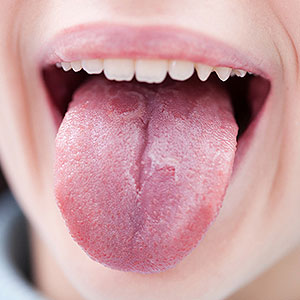 There are a few mouth conditions so rare most of us have never heard of them. Geographic tongue would fall into this category, affecting only one to three percent of the population. Even so, these irregular reddish patches resembling land masses on a map (hence the name) might be alarming at first glance—but they pose no danger and usually cause very little discomfort.
Geographic tongue is also known as benign migratory glossitis. As its clinical name implies, the unusual red patchy areas (often surrounded by a grayish white border) aren't cancerous nor contagious. The patches also appear to change shape and move around ("migrate") the tongue.
The reddish appearance comes from the temporary disappearance of tiny bumps on the tongue surface called papillae, which can leave the tongue smooth to the touch in affected areas. The lost papillae may reappear again a few hours or days later, and may occasionally disappear again. While it's not painful, you can experience a stinging or burning sensation emitting from these patchy areas.
We're not sure how and why geographic tongue erupts, but it's believed high emotional or psychological stress, hormonal imbalance or certain vitamin deficiencies might be factors in its cause. There may also be a link between it and psoriasis, a condition that can cause dry, itchy patches on the skin.
If you're one of the rare individuals who has episodes of geographic tongue, the good news is it's harmless, only mildly uncomfortable and usually temporary. The bad news, though, is that there's no known cure for the condition—but it can be managed to ease discomfort during outbreaks.
It's been found that highly acidic and spicy foods, as well as astringents like alcohol or some mouthrinses, can increase the level of discomfort. By avoiding these or similar foods or substances, you can reduce the irritation. Your dentist may also be able to help by prescribing anesthetic mouthrinses, antihistamines or steroid ointments.
For the most part, you'll simply have to wait it out. Other than the mild, physical discomfort, the worst part is often simply the appearance of the tongue. But by watching your diet and other habits, and with a little help from us, you can cope with these irritations when it occurs.
If you would like more information on geographic tongue and similar oral issues, please contact us or schedule an appointment for a consultation. You can also learn more about this topic by reading the Dear Doctor magazine article "Geographic Tongue: No Cause for Alarm."